First Aid & CPR for Parents
$250
UK & AU Registered Midwife
Certified First Aid Trainer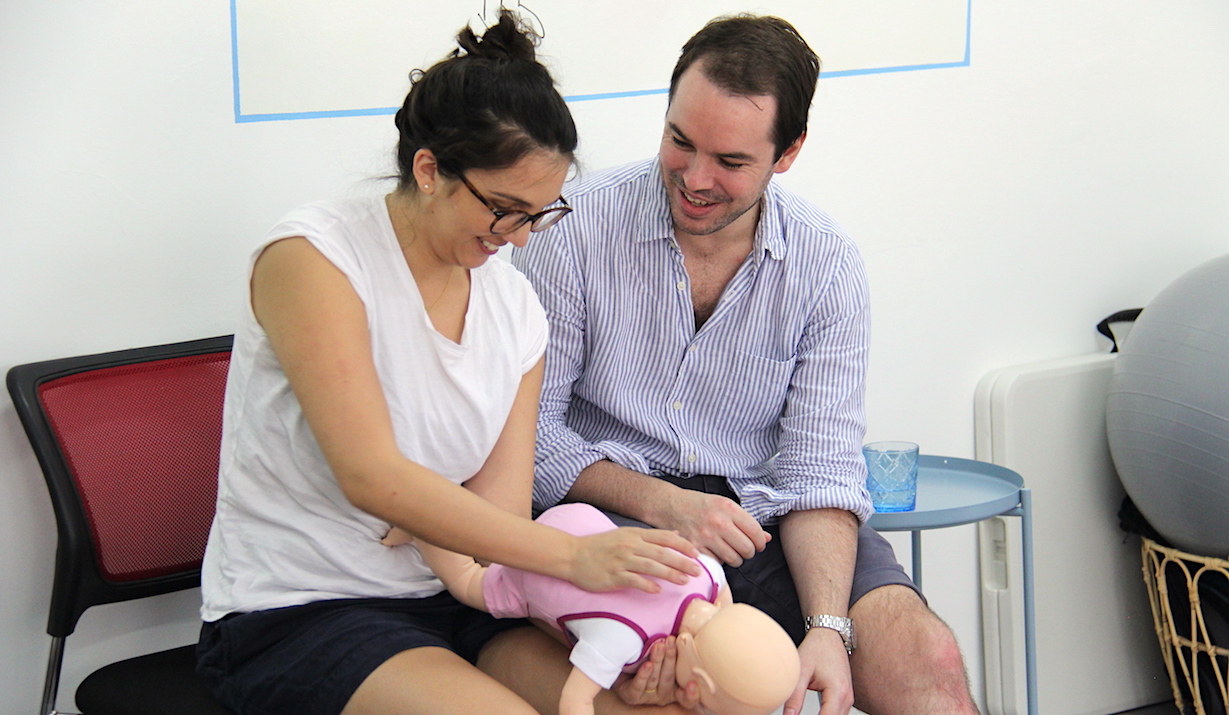 Be Prepared for Emergencies and Common Ailments
No parent wants to be in the situation where they are unprepared to help their baby or child during an emergency. And yet, sadly, research from the British Red Cross has shown that 3 out of 4 parents in the UK would not be able to save their baby if they were choking.* Learning to prevent a common risk, such as choking, is much simpler than you might think. In fact, learning how to prevent, assess and treat a variety of first aid and common ailments encountered by infants and young children can by done in our 3 hour First Aid and CPR class for Parents.
Taught in a friendly, relaxed and sociable manner, our Emergency Medical Technician and Certified First Aid Trainer will cover the basics of both First Aid and CPR. Our First Aid portion has several topics and covers all the basics to care for your infant and/or young child. With an emphasis on hands-on learning, our CPR and Choking portion of the class is an interactive experience where you and your partner will practice responding to these emergencies.
Beloved Bumps' First Aid & CPR class is not a certification course, but you will learn the skills needed so you are confident and competent. If you are interested in a First Aid certification, please contact us at info@belovedbumps.sg.
*2017 nationally representative online survey of 2,008 UK adults completed by Critical Research.
First Aid & CPR for Parents

$250

Per Couple

2-3 Hours of Teaching
Hands-on Learning
7 First Aid Topics
5 CPR Topics
Reference Sheets + First Aid Kit Provided
What is your cancellation policy in the case of COVID-19/Coronavirus?
IMPORTANT: Given that our clients are a vulnerable group (eg, pregnant women and children), Beloved Bumps reserves the right to go to virtual teaching and learning at any point. While Beloved Bumps will always adhere to Singapore law and recommendations during times of crises, we believe it's important to err on the side of caution for the protection of our clients.
If you have contracted COVID-19 or have COVID-19-related symptoms (eg, fever, runny nose or cough), then please notify us immediately as unfortunately you will not be able to attend the group or individual sessions in person.

VIRTUAL OPTION: If the above situation applies, then we will offer you a virtual class alternative.
REFUND: If you have contracted COVID-19 and would like to receive a refund instead because you CANNOT attend a virtual class, please let us know and we will process a refund. Please note that you will need to confirm this with a medical certificate. We will not provide a refund for those who are only showing symptoms and otherwise can attend a virtual class on the same day and time as their originally scheduled class.
If our instructors have contracted COVID-19 or have COVID-19-related symptoms (eg, fever, runny nose or cough), then we will work hard to provide a virtual option or another time when you can attend the class. If the class has to be canceled, then a full refund will be given
If you haven't contracted the COVID-19 and don't have COVID-19-related symptoms, and you are unwilling to attend virtually, then our usual cancellation policy applies (under 'Cancellations and Refunds').
For other situations, please see our full Terms & Conditions.
Can I bring my baby to class?
Absolutely! Please be advised that there is one flight of stairs at our teaching centre. However, there will be someone at the bottom of the stairs to gladly help you up with your pram.
How long does the first aid training take?
Approximately 3 hours.
We will start with basic First Aid, take a 15-20 min break, and then resume with CPR, use of AED and choking.
Can I participate if I'm heavily pregnant?
Absolutely! We will always advise that you work within your comfort levels, but we can adapt the positions of the CPR manikins, so you don't have to kneel on the floor. You also don't have to complete all the interactive skills if it's too uncomfortable.
Is the class a Certified First Aid Class?
The class does not make you CPR Certified, but the content is very thorough with a focus on assessed practical First Aid skills.
If you are interested in a certified qualification, you do have the option to convert the class to a certificate with additional online training and an additional fee.
How many students in the class?
We like to keep the class size small to maximise student/teacher ratio, depending on where the class is conducted there are usually 6-8 couples.
What should I wear to attend the class?
It is advisable to wear loose fitting and comfortable clothing. We do a lot of practical work (getting up and down from the floor and putting each other into the side lying recovery position) so shorts or trousers would probably be the best option.
Class location:  11 Keng Cheow Street, #02-02, 059608
Overview
Below is a general overview of the topics we cover in our First Aid & CPR for Parents class. Please note that this overview does not fully cover the details of each topic. Beloved Bumps does reserve the right to reshuffle and change the information based on class and participants. If you have any specific questions about the content we cover, please don't hesitate to reach out!
First Aid & CPR
3 talks, 5 interactive sessions
Interactive Session:
CPR for Infant
Interactive Session:
CPR for Child
Interactive Session:
Use of AED
Interactive Session:
Choking in Infant
Interactive Session:
Choking in Child
 Venue: Beloved Bumps HQ, 11 Keng Cheow Street, #02-02, 059608
Class Time: Sundays, 10 - 12:30 pm
Best Taxi Drop Off: Riverside Piazza
Closest MRT: Clarke Quay